Maker's Mark received approval recently for a label that will apparently be used for what looks to be an exciting new series that will be named the "DNA Project."
Based on the label it appears that there will be 4 different releases in the series with each batch having different barrel entry proofs of 110, 115, 120, and 125.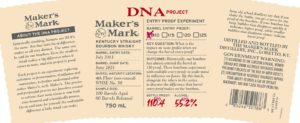 It seems that the goal of this project will be to allow the consumer to see the differences that varying entry proof can create for a Bourbon.
No word on when the new series will be released but here at The Bourbon Life we're pretty excited.