The Woodford Reserve $1,000 Mint Julep™ charity program, one of the Kentucky Derby's most unique annual traditions, is honoring the Black jockeys who dominated horse racing in its early years.
A total of 100 julep cups* will be available for purchase. Cups numbered 1-11 are gold-plated and sell for $2,500 each. Cups 12-100 are silver-plated and sell for $1,000. Each cup is engraved with the name of one Black jockey and the year or years they won the Derby.
The cups were designed and hand-engraved by From the Vault jeweler in Louisville. Each comes in a bespoke purse designed by Louisville artist Albert Shumake — and each cup is cradled in decorative silk designed by Louisville artist Gwendolyn Kelly. Kelly's custom pattern is the "four-man clover," representing the interconnected network of support and strength among Black jockeys, trainers, and groomsmen.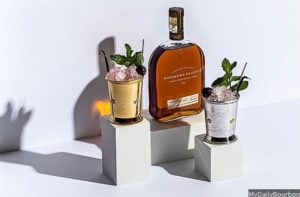 "The jockeys played a significant role in horse racing that many people know little about, it's time to honor them and their legacies. They each exemplified love for the sport and the pursuit of excellence, despite the inequality and injustice they faced throughout their lives and careers." – Chris Morris, Woodford Reserve Master Distiller"
-information and photo from Woodford Reserve