We posted a picture on our Instagram last week of a sample bottle that was sent to us from Green River Distilling Co. If you've not seen that post yet then be sure to check it out.
The sample was a 4-year old, 100 Proof Bourbon which we assumed would be a bottled in bond release but there was nothing in the packaging to confirm.
But this label was recently approved for use so now we can confirm that the soon to be released Bourbon from Green River (the former O.Z. Tyler Distillery) will be a bottled in bond release.
The mashbill is 70% Corn, 21% Rye, and 9% Malted Barley.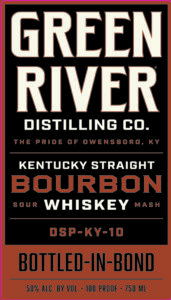 The Distillery has previously indicated that the new Green River Bourbon will not use the TerraPURE aging process that was used for the O.Z. Tyler products.
Be sure to catch Master Distiller, Jacob Call, on the Podacst in a couple of weeks.